Student Orientation Meeting – Hilltop Apartment Complex Community Room (location may change)
Sunday, June 25 – 2:00-4:00 p.m.
All new students should attend the orientation meeting. After the orientation meeting is a walking tour of campus. The program welcome meeting at 4:30 follows this.
 Welcome Meeting and Gift Exchange* – Hilltop Apartment Complex Community Room (location may change)
Sunday, June 25 – 4:30-6:30 p.m.
This event is for both non-program and GCT@UConn program students enrolled in any of our GCT@UConn educational psychology classes, as well as faculty and visiting scholars.
Residential life staff will meet with us to go over some general policies regarding living on campus. After, we will hear from Del and Joe, who will discuss the goings on about Center and University activities during the past year.
The GCT@UConn Program has arranged for a sandwich buffet immediately following the 4:30 orientation meeting. We hope you can join us, even if you are not part of the GCT@UConn cohort, so you can meet your classmates prior to the start of class on Monday.
*Although the gift exchange is optional, it is an amusing way to interact with colleagues. Bring a wrapped gift (~$10.00) that typifies your hometown or state (e.g., maple syrup from Vermont) to exchange after the welcome meeting. We will hold a Yankee Swap with the gifts (it is a lot of fun). Note: If you plan to participate in the gift exchange, bring the gift to the orientation/welcome meeting.
Banquet Celebration – Alumni House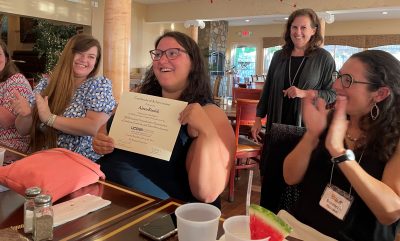 Saturday, July 8 – 6-9 p.m.
Be sure to join us for the GCT@UConn end-of-year banquet. We celebrate the completion of the summer classes and SuperComp. GCT@UConn students attend free. There is fee for guests. Contact Stephanie Huntington (stephanie.huntington@uconn.edu) for information about having guest attend.