COMPREHENSIVE EXAMS
Master's and Sixth Year students are required to take two final examinations: Nirvana and SuperComp. The examinations are usually taken before one of the three University of Connecticut graduate school conferral (completion) dates: May, August, and December.
Timeline: Students can complete Nirvana after completing EPSY 5720 (SEM) and successfully submitting their practicum project. Students will be expected to complete SuperComp after core coursework has been completed, usually on the Saturday following summer campus classes toward culmination of the program.
There are no credits or fees associated with either of these exams; therefore, you do not need to register in the Student Administration System for them. A program faculty or staff member will arrange access after you have completed the prerequisites. *
Nirvana
Nirvana is a computer-based simulation exam and is taken off site. This open book simulation draws beyond the skills of a textbook. It was developed in response to statements made by former graduate students concerning their preparation for teaching and coordinating enrichment and talent development activities. Many students indicated that they had not considered how they would handle various decisions, planning strategies, and programming options when they left our graduate program and started their new jobs.
Nirvana is a series of memos to which you need to respond. The memos are based on the practical experiences of many of our graduate students and involve the many types of decisions that might have to be made if you start a new coordinator or teaching position. Nirvana is based on the implementation of the Schoolwide Enrichment Model (SEM) in a fictional school district called Nirvana. You are essentially, the resident expert. *The exam is taken after completing EPSY 5720 (SEM) and submission of the practicum project with the caveat that you have no more than two (2) incompletes.
You may choose either the classroom teacher or coordinator version of Nirvana. Both versions are very parallel. The only difference is perspective. If you feel more comfortable answering the questions as a classroom teacher, then pick the classroom version. If you would like to approach it from the perspective of a coordinator/leadership position, the other would be your choice.
You have 90 days to complete this simulation. For example: If you request Nirvana in April and you wish to confer in May, you must complete the simulation prior to your conferral date (e.g., May 8). In this case, you will not have 90 days to complete Nirvana. If you request Nirvana in July and you wish to confer in December, we must receive your completed Nirvana in October (90 days from initial login).
E-mail Del (del.siegle@uconn.edu)  with the following information at least a week before you are ready to begin:
First and last names
NetID
Classroom or coordinator version
Date you wish to begin the exam
Date you intend to graduate
SuperComp
SuperComp is a computer-based exam taken here on the Storrs campus. *The exam is open to students near the end of their program and is taken after completing the following core courses: EPSY 5710 Introduction to Gifted Education and Talent Development; EPSY 5720 Developing Schoolwide Enrichment Programs; EPSY 5740 Strategies for Differentiating the Grade Level Curriculum; EPSY 5750 Enhancing Creativity in the Classroom; EPSY 5601 Principles and Methods in Educational Research, and EPSY 5194 Seminar in Gifted Education.
Click here for a list of topics on the current version of SuperComp.
Review sessions will be held from 12:30 to 1:00 p.m. starting Tuesday, June 27 in our Gentry classroom.
SuperComp will be given to qualifying students on Saturday – July 8 at 9 a.m. in Gentry 325.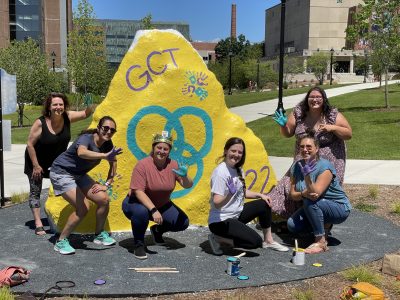 Following SuperComp, students traditionally paint the rock.